24/06/2022
My new egg tempera painting will be on show in the "HOME" Exhibition at The MOMA Machynlleth, in Wales from tomorrow until 7th September 2022.
There is the Machynlleth Festival, too from 21st - 28th August. This is an annual celebration of Welsh and International music and culture. Machynlleth is an historic town and in the heart of UNESCO Dyfi Bioshere. If you have a chance to go to Mid Wales in the Summer, please come and visit the show. I like the landscape between the West Midlands and Machynlleth because I can see gentle rolling green hills and idyllic scenery. So beautiful.
...more
06/06/2022
I am exhibiting my miniature work starting this Saturday 11th June until Saturday 18th June in the Town Hall, Wells, Somerset, UK. My miniature art work is about the size of 2 custard creams! The frame is hand crafted especially for miniature work.
Wells is a lovely place to visit. if you are nearby, please come and visit the show.
...more
06/06/2022
I am exhibiting my art work at The Art Yard starting 30th May until 25th June 2022.
...more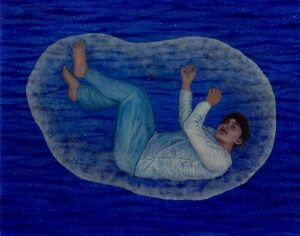 16/05/2022
I am delighted to announce that I am exhibiting in the
#WestMidlandsOpen
This opportunity to celebrate the quality and diversity of the visual arts across the region will take place at The New Art Gallery Walsall, 20 May - 25 September 2022 (Preview Thursday 19 May, 6 - 8pm).
Works were accepted from West Midlands-based artists, artists currently studying in the region and those who have studied in the region within the last 10 years. Works were selected by Skinder Hundal MBE (@skinderhundal), Director of Arts, @britishcouncil, West Midlands-based artists Maryam Wahid (@maryamwb) and Nilupa Yasmin (@nilupayasmin_), as well as a panel of Gallery staff led by Director Stephen Snoddy (@snoddy.stephen).
...more
25/04/2022
This cat drawing is exhibiting at The Art Yard from 25th April until 21st May 2022.
I saw this cat when I was an artist in residence in Italy in 2013. Portico di Romagna is a very beautiful and historic place. Italian poet Dante Alighieri's beloved Beatrice lived in this town. Portico is also home to the smallest volcano in Italy which I painted and drew... I remember I was having a hectic life in UK at that time and I kind of escaped to Portico. I found a community where people gather together, help each other, listen to live music and eat together.
I have not been outside of the UK since the beginning of the pandemic. I drew this cat from memory. Memory takes you to any place, any time, to people, smells, temperature, feelings, thoughts, sounds, tastes, textures, colours, shapes, buildings, light and movement... When I drew this Portico Cat my mind was freed from distance.
...more
22/03/2022
My new cat drawing is at The Art Yard starting yesterday until 16th April.
I saw this cat when I was walking. I can't remember if it's a male or a female. All I remember is this cat was warm-hearted, friendly, patient and gentle with children.
...more
07/03/2022
I am currently participating in a group show at the Dudley Canal & Tunnel Trust. I am exhibiting three drawings at the front space of the Waterside Galley. There is also a café and interesting underground cave canal trips. The Black Country Museum and Dudley Zoo are also nearby. If you have time, please visit.
...more
19/01/2022
I am exhibiting a small cat painting at The Art Yard until 12th March 2022. If you have a chance, please come and visit the group show.
...more
Brantwood - John Ruskin's House
13/10/2021
Last summer I visited the home of the celebrated 19th century art critic and writer, John Ruskin.
At the entrance to Brantwood, there is a sign with Ruskin's words that reads:
" Fine art is that in which the hand, the head and the heart of man go together."
These words resonated profoundly with me.
09/09/2021
This is a one day exhibition on Saturday 11th September 2021 from 10am to 4pm at the Crown Hotel, Wolverhampton Street, Dudley, DY1 1ED. The Crown Hotel was constructed 1895 - 7 and was Grade 2 listed in 1996. The building was designed by Joseph D Wood, and is a "Gothic Revival" style building.
...more
08/09/2021
I am participating in the opening year event at Hirashin Art Gallery, Hirakata Performing & Visual Arts Centre, Osaka, Japan from 30th August to 13th September 2021, featuring 67 artists who have a connection with Hirakata city. I am delighted to be a part of this s
how. If you are around please come and visit our exhibition.
...more
04/07/2021
At last ! My works will be on display at a real gallery ! After 18 months, Dudley Society of Artists is holding a group exhibition. It is being held at Dudley Canal Trust from 2nd July to 30th July. Come along to see wonderful works of art produced by members of the society.
...more
A new page of drawings has been added to the site.
01/05/2020
I have added a new page of drawings to my website. This particular drawing is a study of
"Head of a woman"
by Sir Lawrence Alma-Tadema's, drawn in1885. When I was studying this drawing, I noticed such delicate, beautiful light-catching lines and the slight smile in the model's expression makes me wonder about her thoughts and feelings.
18/04/2020
Thank you to all those who visited the Dudley Society of Artists Exhibition at Himley Hall and for your kind comments about my work. However, due to Covid-19 we have had to close the exhibition early and postpone the Society's next show at the Waterside Gallery at Dudley Canal and Tunnel Trust.
...more
15/07/2019
I am exhibiting my work at Dudley Canal & Tunnel Trust Open Exhibition from 15th July to 16th August 2019.
The place depicted in the painting is Wrens Nest Nature Reserve in Dudley.
Primary school students come here on school trips to learn about history and geography. Young children have open minds and are often more ready to learn than adults. They just love to find and discover the world around them. For this picture I wanted to depict the enjoyment of life that young people can feel in a single moment of discovery.
When people start to advance in years, their lives can become preoccupied with many different things and it becomes easy to forget the moments of youth in which the excitement of life is sparked within the spirit. People often find and discover answers to present problems from history. Fossil-hunting for me is similar to this search for answers to the big questions of life and existence with reference to history.
Can you find the disguised dinosaur in the picture?
...more
04/07/2019
I will be exhibiting my work at the Tabernacle Art Competition at the Museum of Modern Art in Wales from Saturday 6th July to Thursday 5th September.
The Machynlleth Festival takes place from 18th to 25th August.
...more
Made in The Black Country Festival
19/06/2019
I will be participating in the 'Made in The Black Country Festival' at Dudley Canal Trust on 30th June 2019. My work is a portrait drawing of the Victorian period-born writer Virginia Woolf (1882-1941).
Upcoming group exhibition starts on 18th June 2019
16/06/2019
I have an upcoming exhibition at Dudley Canal Trust, West Midlands, UK from 18th June to 15th July.
Guinea Pig -KOTOHA-
01/10/2018
Part of a new series of small paintings. The frame is hand-carved by Eiko using gold leaf.
.
Upcoming group exhibition starts on 4th June 2018.
30/05/2018
I have an upcoming exhibition at Dudley Canal Trust, West Midlands, UK from 4th June to 13th July.
08/05/2018
I have an upcoming exhibition at Himley Hall, Dudley from Saturday 28th July to Saturday 22nd September.
...more
Welcome to Eiko's News
30/04/2018
Thank you for visiting my website. I will post any news on this page.